Winter is Coming…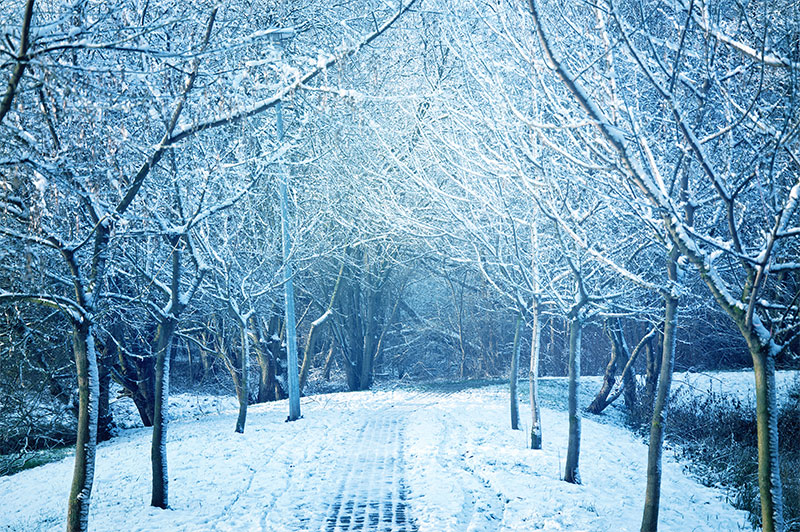 As Fall begins to surrender the heat of this past summer, we begin to look forward to the coziness of a tiny home, watching the autumn colors develop, and sipping on a pumpkin spice latte. But before we get ready to settle down to cooler weather, it is a good idea to assure our tiny home is ready.
Today we will discuss what things to think about and the necessary steps to take to get your house ready for winter.
Skirting
If your tiny home on wheels does not have skirting underneath, this is where you should start. Skirting assures the wind and cold air is kept out from under the chassis of the trailer/home helping to reduce cold temperatures from traveling through the steel beams of the trailer and into your subfloor, which could cause cold floors or worse, thermal bridging and condensation when the humidity is high inside. Skirting also helps to insulate the waste lines under the trailer so they will not freeze up as easily. Make sure the skirting comes up as high as possible, and ideally over the steel trailer flange. There are many materials that can be used to skirt underneath a tiny home such as straw bales in dry climates, closed cell foam, or mineral wool board. It's best to choose skirting that insulates as well in cold climates.
Water and Waste Lines
If it freezes up normally where you live, you may want to invest in some heat tape and plumbing insulation. The electric heat tape can be plugged into a thermostatically controlled plug that will turn the heat tape on at 45 degrees or less and turn off at 45 degrees or warmer.
Another tip is to assure that your grey water drain is built deep enough so it does not freeze up. Dealing with a frozen waste line is not my idea of winter fun!
Oh yeah, I almost forgot…
Make sure that your heater has been cleaned and it's ready to go before the cold weather settles in. That includes changing the filters as well(you should do that monthly anyways…) Purchasing a dehumidifier is a smart preventative measure as well to deal with how much moisture is produced in a tiny house when the windows are closed and the humidity rises considerably.
Final Thoughts…
Living in a tiny home during the winter months can be quite cozy. However if you do not assure your home has been winterized before, it could be a nightmare. Take time to make sure your home is ready. And get ready to sip on a hot cup of cocoa, build a fire, and put your feet up for the winter!
Until next time, live tiny y'all!